RAVE REVIEW IN JEWISH JOURNAL
Mort Laitner, 65, of Cooper City, was deeply influenced by his father's life as a Holocaust survivor.
In his new book, "A Hebraic Obsession," Mort takes the World War II Holocaust experiences of his father (Dr. Wolf Laitner), and the arduous process of Mort's uncovering many of Wolf's heretofore private experiences — and combines them with Mort's own coming-of-age tale of growing up as a Jewish Holocaust survivor's son in the 1950's and 1960's.
What results is a wild journey through Mort's life — from childhood to fatherhood to school to retirement — as he obsesses about his father, the Holocaust, Judaism, prejudice, survival, luck, love, miracles and life in general.
According to Alan Feuerman, a reviewer on Amazon.com: "This is one of those books that draws you in from the beginning and you can't stop reading until you have reached the conclusion of how Mort's father survived the Holocaust. …
"Not only is this book a very historical look at the events leading up to and involved with the Holocaust, it is also a very personal story of a young Jewish boy, his journey from childhood through retirement, and his tribute to his biggest hero, his father — who not only survived the Holocaust but managed to overcome his past and raise a family in America.
"I laughed, I cried and I rejoiced while I read this book. An inspirational book that you should not miss out on."
The book starts when Mort was 10 years old and was hiding at the top of the stairs in his home, listening to Wolf tell his Holocaust survival stories to Wolf's friends. In one particularly-shocking story, Wolf tells how he was on line to go into the gas chamber at Auschwitz when he was called out and reprieved.
Wolf never directly told Mort any of his Holocaust stories, as Mort believes Wolf wanted to spare his son from the horrors he and Mort's mother, Henia, endured at the hands of the Nazis.
Though Mort was always curious about what happened to his dad, he never dared ask Wolf to explain or give more details out of respect for his dad not to bring back those emotions to Wolf that are best only to be felt once in a lifetime.
Mort said: "My father did what he felt he had to do to survive."
The memory of how Wolf narrowly escaped death, however, always stuck with Mort and made him curious to learn more. So, Mort used his skills as a former attorney for the Miami-Dade Health Department to track down the information he was seeking about this father.
Mort pieced together what he could about his father's life during World War II from: taped interviews Wolf did with the Holocaust Documentation and Education Center in Hollywood just before he died in 1989; books describing how Wolf worked as a doctor in slave labor camps; a doctoral thesis on Holocaust studies; and from a transcript of his father's testimony at a U.S. military tribunal which led to a Nazi commandant's death sentence.
Clue by clue, missing details came to light describing that fateful day when Wolf stood naked and faced the gas chamber. Mort takes the book full circle, ending it by revealing the details about why his father was spared from the gas chamber at Auschwitz, while the 900 other people around Wolf were soon led to their deaths.
Mort said: "It was 'manna from heaven' when I got to read that doctoral thesis that revealed so many things about my father's life. It allowed me to figure out how to end the book and connect it back to the beginning. Working on this book took up 17 months of my life and I wanted to get it right."
Interwoven in the book with the tales about Mort's father are Mort's sometimes-bawdy (and always-revealing) stories of Mort's own childhood and young adulthood escapades — similar to famous Jewish-American author Philip Roth.
For more information about Mort — a part-time law and ethics professor at Barry and Florida International universities in Miami — visit http://www.mortlaitner.com.
"A Hebraic Obsession," self-published by Mort in May, is available at http://www.amazon.com.
"A powerful account!"
A Hebraic Obsession Review by Fallan Patterson in the Broward County Sun Sentinel
http://touch.sun-sentinel.com/#section/1181/article/p2p-80832072/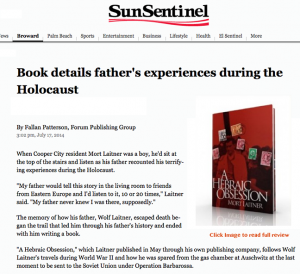 Click HERE to read Amazon customer reviews of "A Hebraic Obsession"