PARADISO SPEECH— June 25, 2016
Theme "LOVE"— Agape— Martin Buber "I Thou"
Thank you's: Shelley loving support in helping to make the film, Uncle Mike and Aunt Renia, survivors, for their support and consultations about my dad, My sons: Blake the producer of the movie , Travis, videographer here today, Jason legal skills drafting contracts, my sister Barbara consulting about our dad, the Portland, Oregon cast and crew of the movie. Reporter, Randall Lieberman for getting so many articles in the Jewish Journal. Thanks to my friends for being here tonight and finally I want thank my dad for being my hero.
I realize how lucky I am to have been able make a movie about my father—very few people get that honor.
And with that honor came many tears.
The tears I shed on my steps in my home, listening to the story you are seeing tonight,
The tears I shed, in front of law partner he first time I read the story out loud,
The tears I shed, while watching on monitor in film production the actor playing my dad, mannerisms, accent the way he held his glass one remembrance tear.
The tears I shed the first time I watched this movie on my desktop.
The movie you are going to see tonight came to life 57 years ago:
In 1959, a ten-year-old listens to my father tell the story. I see and hear: the plot, the scene, the characters, the dialogue and start forming my POV;
In 1988, I mentioned this story in my father's eulogy.
In 2007 at the Miami-Dade County Health Department I wrote the short story entitled "The Stairs" and reading it out loud I cried.
In 2010, I read the story to a packed audience on Miami Beach and heard "perfect silence" from the audience. My story had capture their hearts.
In 2014, I published the book "A Hebraic Obsession" in which "The Stairs" is the first chapter.
In 2015, I wrote the screenplay and we filmed the movie in Portland.
And here we are in 2016, at the World Premiere.
I hope you enjoy the movie and learn more about my dad.
A dad, who loved life, loved his family, friends and patients, and
I think my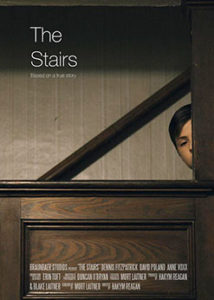 dad who would have loved the film you are seeing tonight.
;