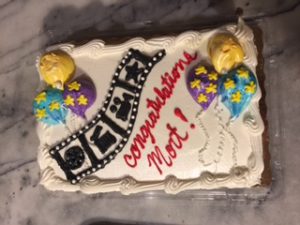 Been on vacation, so here are some late highlights about the movie premiere:
A hundred fans showed up and made me a happy camper—thanks to those in attendance, especially the members of the South Florida Writers Association— that's what friends are for;
They enjoyed the beverages, cheese, crackers and grapes at the Meet & Greet— Thanks Marianne and John for all your assistance;
The resonance of applause for the film is one of my favorite sounds;
A lively and interesting Q and A followed the film—Thanks for the smart questions;
Showing the film twice got rave reviews. The audience saw the nuances in the eyes of the actors— Thanks Jason for the idea;
The red carpet and the velvet rope and posts added some glitz to the affair;
My speech went well. Thanks to edits from Shelley, Blake, Jason and Travis;
We sold some books, autographed some books that people bought via Amazon and collected some money for the U.S Holocaust Memorial and Museum (Blake's good karma idea);
Seeing "The Stairs" movie poster in the marquis surrounded by blinking lights was a WOW moment– Thanks Paradiso Cinema
Specifically, Director Michelle, Projectionist Ray and the rest of the Paradiso staff,  thanks for a job well done. The event went off without a hitch—very professional;
The Israeli-food theme for the after party was a hit. —Thanks Shelley for the idea and all the help. Thanks to Staci, Nina and Lucy ( Sorry to those I am forgetting) for all your assistance.
Sorry for those of you who missed it. But the movie will be showing in other South Florida venues. I will keep you posted. I will also post the YouTube the video of the event.—Thanks to Travis our videographer.
I slowly drove home enjoying the relaxed sensation of when life throws you a bone and you realize how lucky you are.
What the movie audience is saying:
Kudos to you Bobby. Your father would be proud of you. And your Mother to.—Richie
Thank you for the opportunity to see your film.  I'm sure there will be more to come – it was very professional and moving.  A plus was seeing so many familiar faces!—Nadine and Jeffery
Thank you for the invitation and the opportunity to see "The Stairs" this evening.  Both Lynne and I and our guests enjoyed it.  Also, I thought you did an excellent job with the questions following the movie.  You were very interesting and informative.  Sorry we couldn't come to your house afterward; we had made previous plans.  I wish you the very best going forward with your book and the film. —Glenn & Lynne
 Let them eat cake!— Sue and Jerry
 Bravo!— Evelyn
Great comments. —Etta
Enjoyed!— Phyliss
Thanks for sharing. You have inspired me to start wring.—Sue
Hi Mort,
The only thing missing from last night's red carpet event was the Hollywood crowd. Then, on the other hand, you and the rest of us made up for it. I thoroughly enjoyed the movie and wish you nothing but success with it. Keep me posted, pls!
I also thought you had some terrific questions during the Q&A, and the guy who spoke about his experience with your father really added to the event. I'll have to go back to re-read your book to refresh my memory about the whole story.
Sorry I couldn't make it to the post-party noshing at your house, but I couldn't leave Don alone with the aide any longer; as you know, my time is no longer my own, so I'm constantly under pressure … Also, I feel horrible that I missed Shelley; pls give her my very best.
Well, Mort, who would have thunk that you'd now have a second career as a successful screen-writer and producer! So many people try but so few people succeed. Mazel tov to you! Take care —Cami
Great film, Mort — Richard